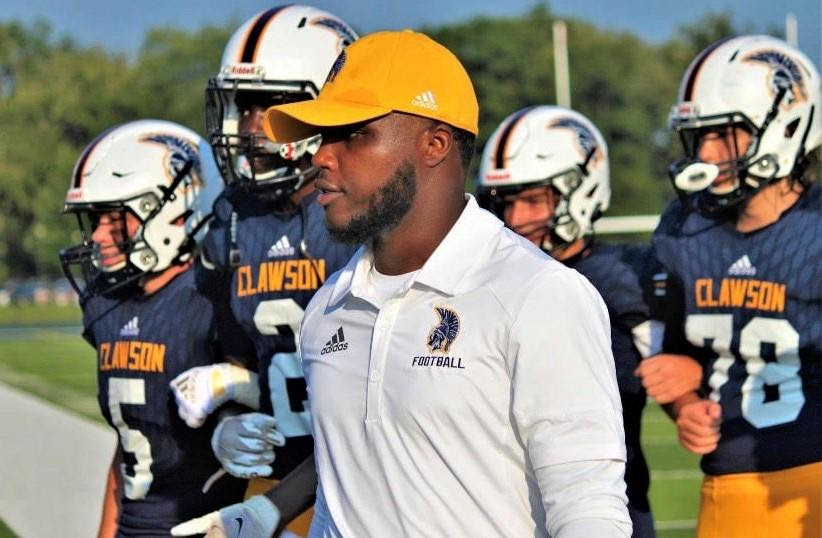 Jermaih Johnson
High School: Notre Dame Preparatory, Class of 2014
Building Bridges Advocate: Dave Anderson
Determined to take a different path than many of the other kids in his neighborhood, Jermaih chose Notre Dame Prep because he knew that being a part of the Building Bridges program would keep him on the path to success. He often tells his story, describing that the encouragement and support of his mom, as well as being a part of the Building Bridges family made a huge impact and saved him from a very a different reality.
Though the road through NDP was a challenge academically, Jermaih pushed through and received a scholarship to Saginaw Valley State University for football. There, he became interested in the the innerworkings of the human body–specifically how the heart and brain control every part of body movement and function.  This led him to pursue a degree and later a career in Exercise Science with a focus on physical fitness.
Jermaih now works as an Elementary Physical Education Teacher while laying the groundwork to start his own training gym. The number one item on his bucket list is to skydive because he thinks that it will be awesome!
He is still involved with and passionate about Building Bridges today because he believes that they do exactly what they set out to do–build bridges between young people and their future–and that is something that he can get behind.
College: B.S. Exercise Science, Saginaw Valley State University, (2019)
Current Role: Elementary Physical Education Teacher
Future Plans: To open his own training gym
How can you help Jermaih today? An experienced athletic trainer, Jermaih is seeking athletes who need agility, mobility, strength, or power training. He specializes in basketball, football, and speed training, but works with all athletes looking to go to the next level. If you or someone within your network can connect him with an athlete, please contact [email protected]gmail.com.