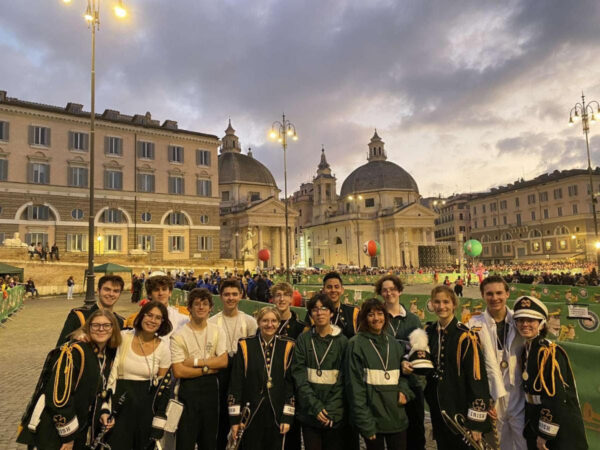 Eric (front row middle, 5th from the left) and Emmanuel (back row middle, 5th from the left) smile with their bandmates after marching in the New Year's Day Parade in Rome, Italy.
Over the holiday break, Notre Dame Preparatory Seniors and Building Bridges Scholars Eric Gomez and Emmanuel Rostro-Gonzalez got the chance of a lifetime. Emmanuel is a member of the NDP Marching Band and Eric is a member of the Winter Guard (flag corps to the band), both of which perform together internationally every other year. This year's trip was to Rome, Italy, and as soon as they expressed interest, Building Bridges jumped into action–from raising money to help fund the cost to helping to obtain passports to easing first-time flight anxiety–to make this dream a reality for them.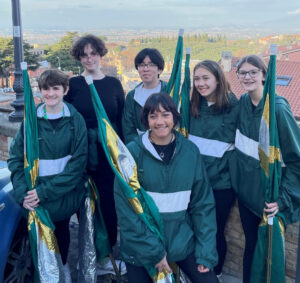 Eric (back row middle) and the Winter Guard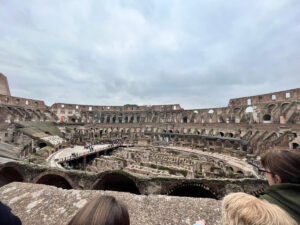 The students at the Colosseum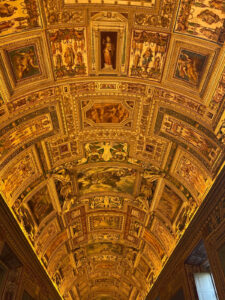 The students at the Sistine Chapel
What were you most excited about before going to Rome?
Emmanuel: I was most excited about traveling with my band companions with whom I've had the honor of spending the last four years.
Eric: I was most excited to see the Sistine Chapel in Vatican City. I learned about it in Christian History class and I was mesmerized by the pictures. I was so excited to view it in real life.
What was the best part of your trip?
Emmanuel: The best part of my trip were the tours and dinners with my band mates, especially the New Year's Eve party in Rome.
Eric: The best part of the trip was visiting all the famous landmarks with my friends. We saw the Vatican City, Sistine Chapel, St. Peter's Basilica, and the Colosseum. I was so happy to go and spend time with my fellow seniors because I know we are not all going to same college and I am glad to have these memories.
What part of the trip was most impactful? What will you remember forever?
Emmanuel: I will remember my last marching show marching throughout the streets of Rome. Seeing the amount of people on those steps and all those people loving us and cheering us on…that I will remember forever.
Eric: I think the most impactful part was marching in the Rome New Year's parade. I will remember marching with the whole band because they mean a lot to me and they are like my family. It was a once in a lifetime experience for me and I couldn't have done it without the help of Building Bridges.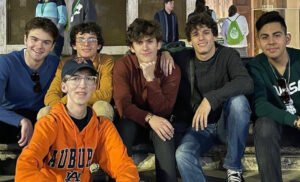 Emmanuel (far right) and friends.