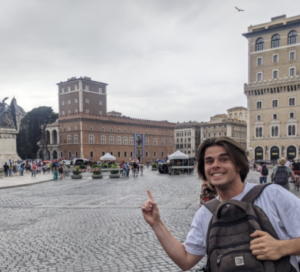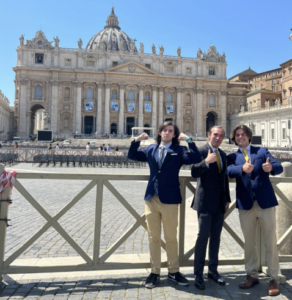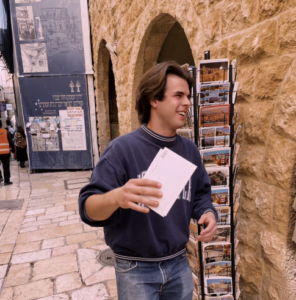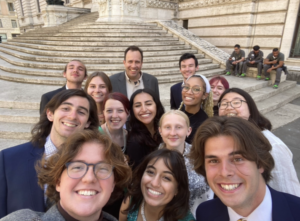 David Mikkola
High School: Notre Dame Preparatory, Class of 2019
Building Bridges Advocate: Nancy Verheyen
College: B.A., University of Michigan, Major: Political Science and International Security, Norms, & Cooperation; Minor: Mandarin Chinese (December 2022)
Future Plans: To attend University of Michigan Law School this fall
Fun Fact: Through academic clubs, collegiate scholarships, and his passion for travel, David has, within the last year, been able to visit Miami, Tempe, Washington D.C., New York City, Toronto, Tel Aviv, Rome, Jerusalem, Florence, Ramallah, Naples, and more.
Why did you choose NDP and how did it prepare you for University of Michigan?
Growing up, Notre Dame Prep existed in a kind of fairy tale-like pipe dream for me. Serendipitously, I spent a large piece of my childhood in my home right on Giddings Road just across the street from NDP. My brother (Nate, NDP/BB Class of 2020) and I spent many a middle school night, conversing with each other about high school and what sneaky way we were going to make it to the other side of Giddings Road. My dad, a bona fide superman of a parent, was years ahead of us and already in conversation about the opportunities that existed and Building Bridges became the fortuitous means to a fabled end.
My time in that school was characterized by a round-the-clock fostering of my curiosities and constant edification from my teachers and mentors alike. The curriculum, counseling, and experiences at Notre Dame Prep readied me for college in a way no other school could.
What were you involved in at NDP?
I was the president of National Chinese Honor Society, a National Honor Society member, a Peer Leader Coordinator for Campus Ministry, the Director of the Theatre Program's Props Department, a Creative Writing Club member, a Model United Nations member, and a Student Ambassador for the Admissions Office. Additionally, during many of my high school summers, I was a caddy at Oakland Hills Country Club, a summer job that Building Bridges helped me land!
University of Michigan Law School is an awesome next step. What type of law are you interested in and why?
I'm intrigued by a lot of different areas of legal practice, but I'm very interested in international law, especially at the public sector level. It's a tough gig to land, but I'm keenly interested in the functions of the International Criminal Court, the International Court of Justice, and the United Nations, and how their intercontinental jurisdiction ends where the legal sovereignty of the United States begins. In a world that continues to become increasingly globalized, there remain many question marks around the relationship between autonomous countries and these mega-judicial organizations – I wanna be the guy that answers them!
How do you think things would be different had you not been a part of Building Bridges?
Had I not been a part of Building Bridges, I know beyond a doubt that I would not be in as fortunate a position as I'm in now. Hard work pays off, of course, but it is the small army of benevolent and big-hearted people at Building Bridges that have given me a leg up in personal security, mentorship, and opportunity. The generosity they showed me and my family many years ago has reverberated into all avenues of my life; through Building Bridges and the doors they've opened, I've had my worldview crafted by caring educators in every high school and college classroom I've set foot in, I've made friends who I know will keenly and kindly accompany me through my life, and I've been given the liberty to build a future for myself, unfettered by a predetermined zip-code destiny or a socioeconomic stratum I happen to live in.
There is no string of words in the English language I can meld together to thoroughly convey the utmost gratitude I have for Building Bridges and the people who comprise this organization, for they have made me who I am today and given me the tools to discover more about myself. I'm earnestly waiting for the day where I can build bridges for those like me.
How can you help David?
David is currently employed at a political consulting firm, but is eager to connect with those in the legal, diplomatic, or political fields to learn more about their personal and occupational experiences. If you or someone you know has a connection for David, please email buildingbridgesdetroitalumni@gmail.com.