Like most Building Bridges volunteers, Ann Walker started out as an advocate. A great opportunity to "get your feet wet" within Building Bridges, an advocate is an adult that is paired with a student to support them, guide them, and advocate for them throughout their high school experience and beyond. Ann was contacted by her Kappa Alpha Theta Sorority little sister, Patty Kutil–another long-time volunteer–to be a part of this special advocacy and mentorship opportunity. Ann was paired with Nate Mikkola (Class of 2020).
After supporting Nate through Notre Dame Preparatory (NDP) (he earned a full scholarship to Michigan State University and is now heading into his senior year), Ann took on a newly-created leadership position within Building Bridges, Class Captain. Only our second Class Captain, Ann took on the role of leading an entire cohort, guiding the relationship between the students and their advocates over the course of their four-year journey at NDP. Her class, the Class of 2023, is a superstar class in their own right with graduates headed to Michigan State University, Grand Valley State University, Kettering University, Oakland University, and Albion College.
An interview with Ann:
What was the most rewarding part of being an advocate and later a class captain?
"I loved watching each student grow, develop, and find their own friend groups at NDP–knowing that their Building Bridges family would always serve as a safe home base. As each student found themselves and their people, it was easy to step in and support those who may have been struggling socially or academically. Helping each student reach their potential, in many different ways, was the most rewarding."
What student's story was most inspiring to you?
"One of the students in my class, Genesis Rivera, has had a huge impact on me. From the very start, Genesis struggled to find her place both academically and socially at NDP. An extremely independent kid who worked them maximum amount of hours allowed for students as soon as she was able, Genesis did everything on her own using her own money.
At the end of each year, we would talk about whether she should continue at NDP or transfer because of the stress of maintaining a full college prep schedule and a job, and we would always land on the decision that, if she could persevere, this opportunity could change her future…and now, I just attended her college orientation with her at Grand Valley State University.
Watching her develop into a beautiful, resilient young woman has been my pleasure and a huge inspiration."
What lasting impact did working with Building Bridges have on you?
"…the opportunity to advocate for kids for a lifetime. You get attached to them, so the connection doesn't stop at graduation. What the kids have been through to get where they are today is amazing…and every Scholar's story is different. The one thing that is the same is that this opportunity can be life changing for them and their families.
I look forward to continuing to support youth in the future, possibly working through my job to create professional opportunities and connections for young women."
Final thoughts?
"God is the one who opens doors and provides grace, love, and compassion. None of what we do as a part of Building Bridges is possible without faith, hope, and love given by God alone. We are simply the bridge builders!"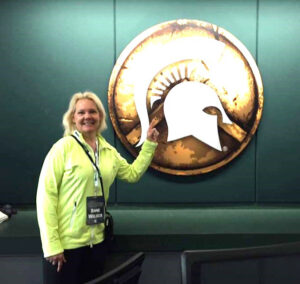 Building Bridges Advocate Ann Walker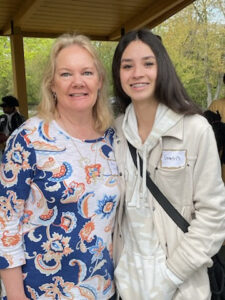 Ann and Genesis at the 2023 Building Bridges Senior Send-Off